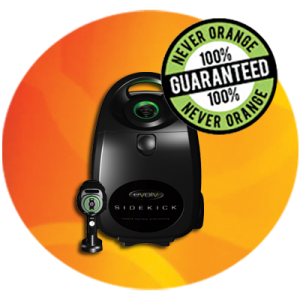 Experience an Evolution in Mobile Sunless with Evolv. Sidekick. The first-ever, heat-infused Airbrush Tanning System, developed by the professionals who brought you the World's most recognized and trusted Sunless Brands, Mystic Tan and VersaSpa.
Developed by the professionals at Sunless, Inc., the world's most innovative sunless skincare company, the Sidekick combines advanced chemistry, ground-breaking engineering, and unparalleled convenience to deliver a specially-formulated, vitamin-enriched, fully-customizable, warm-my-skin, cool-my-senses, curl-my-toes, change-my-life, are-you-looking-at-me, of-course-you're-looking-at-me sunless tanning application every time you turn it on.
Heated airbrush tanning available by appointment only. (760) 726-6921
---
Your one-of-a-kind Airbrush Tanning Experience begins with your choice of 4 Heat-Activated, Skin Conditioning, Skin Moisturizing or Skin Tanning Solutions.
Sunless, Inc. has developed a full line of one-of-a-kind breakthrough, formulations that have been specifically designed for use with the Evolv. Sidekick's Heated Application Process. Each tanning formulation is enhanced with Tea Tree, Argan and Grapeseed Oil and contains a combination of Erythrulose and DHA to produce a tan that lasts longer, fades more evenly, and provides a natural color for all skin types and tones.
How does Evolv's Custom Airbrush Tanning work?
The Custom Airbrush
Tanning process is simple. One of our experienced Professional Technicians will give an initial color consultation, and provide you with all the information needed to achieve the ultimate tan. Once the consultation is complete, your technician uses a high-end handheld heated spray tan applicator to apply even amounts of Sunless Tanning solution to the desired area(s) of your body. After each spray pass you will experience warm spa-like blow dry pass. Once the session is complete, you will be completely dry and ready to redress.
What should I wear during the Sunless Revolution's Custom Airbrush or Automated Tanning Session?
You can wear undergarments, a bathing suit, or nothing. Your chosen attire should be whatever you are completely comfortable with. One of the main benefits of our one-of-a-kind experience is that our all our airbrush technicians and consultants are professionally trained and certified, so you can feel completely comfortable and relaxed throughout the entire process.
NOTE:
WOMEN: During your session you can wear anything you are comfortable in.  The FDA does suggest that you wear disposable panties. You may also choose panties that give you the tan line you desire.
MEN must wear bathing suit.
Use of bathing suit or undergarments during the professional application process may cause permanent staining of the material. If these options are used, we recommend using old, or dark colored materials.
Minimal amounts of cosmetic bronzer (which is water soluble) may transfer to your clothes after you redress and should not permanently stain your clothing. We do suggest wearing darker, loose, materials the day of your professional custom airbrush session.

Skin Care Tips for Before and After your Custom Airbrush or Automated Tan
BEFORE YOUR TAN:
Exfoliate We can't stress this one enough. Imagine your skin being a canvas for an artist, the more blank the canvas, the better the results! On the night prior to, or the morning of getting your sunless tan, always use a non-oil based exfoliant to properly even the skin's surface.
Stay Smooth Always shave or wax at least 24-48 hours before your session rather than the day of your session. Shaving/Waxing opens up the pores and they need to be closed for the tanning application. Shaving or waxing too close to your session can result in the "spotty" large pore look.
No Make-Up or Lotion The day of your tan, avoid any lotions and make-up that may act as a barrier to prevent even application of your tan. You may apply a powder to your face 2-4 hours after your session but must avoid all liquids/lotions until after you shower.
AFTER YOUR TAN:
No Showering or Any Activities That Make You Sweat! The longer you wait to shower after your session, the better. The color has the opportunity to deepen and get darker the longer you leave the solution on. We recommend waiting a minimum of 8-10 hours before showering.
Note: Overexposure to highly chlorinated water, such as hot tubs and swimming pools, is not recommended even after your tan has developed.
Only Exfoliate Before Your Session We recommend not exfoliating or using any abrasive cleansers in between sessions and up to 5-6 days following the session. A light non-abrasive moisturizing cleanser is suggested for keeping your skin hydrated and moisturized.
Moisturize Daily After every shower, we recommend using an approved post-sunless moisturizer. Approved daily post-sunless moisturizers contain hints of the active ingredient DHA, which will prolong and protect the life of your sunless tan.
Ask your EVOLV or Sunless Consultant about our full line of Take-Home Sunless Retail Products.
Heated airbrush tanning by appointment only. (760) 726-6921